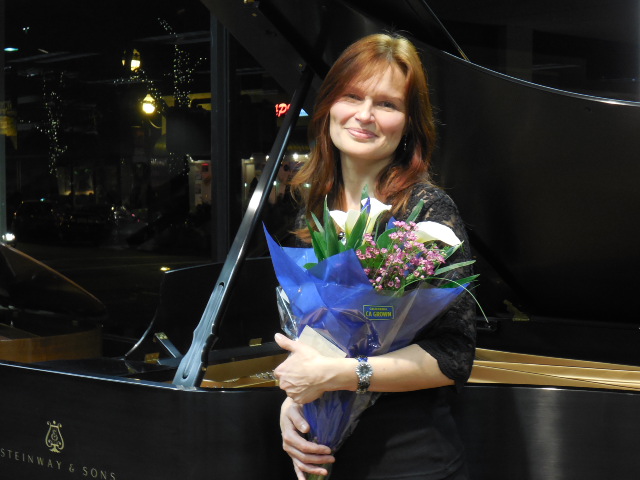 Piano
Oxana Nero is a member of the Music Teachers Association of California as a professional instructor of piano with more than 25 years of teaching experience. She earned her Diploma of Piano by attending the 4-year Kurgan Regional Music College named after D.D. Shostakovich (Russia), and later Bachelor of Art in Publishing at the Chelyabinsk Academy of Culture (Russia). Her specialty is fostering high-performance results with youths 5-18 years of age, and adults. Before she immigrated to the USA, Oxana was a full-time teacher at the Children's Harmony School in Russia for 15 years. She also assisted in staging plays and recitals, prepped performers for regional competitions, and served as accompaniment to students' choir, as well as vocal and ballet groups. Her students were taking places at regional competitions, performing on recitals and entering music colleges for further studying.
Since 2004, Oxana has been performing and teaching in the United States, providing lessons based on strong classical methods, introducing her students to improvisation techniques and theory, as well as preparing them for MTAC and ABRSM tests, recitals, Bay Area music festivals and nation wide competitions (USOMC). She was granted the Award for "Teaching excellence in preparing students for Music Legacy Open Competition".
Oxana has also cultivated unique interactive semi-private piano lessons in a personalized and multimedia setting. Semi-private rhythmic lessons are designed for students age 3-5 in small groups of 2-4 students, and include a variety of activities. Benefits include introducing participants to the wonderful world of music, including an introduction to basic piano skills. After completion students will have the skills to move into private piano or other instrument disciplines. Being a very articulate instructor, and deeply interested in achieving results with her students, Oxana administers a detailed framework of her lesson plans and students' progress reports, plus tailors her instruction to an individual's interests. Her students who participated in US Open Competition received Medals and Certificates of Excellence in different music categories and levels. As a performer, Oxana participated in the Worship Band for the "Abundant Life" church in St. Mary's, PA, and assisted recitals of strings players as an accompanist while teaching in CA.
Oxana's long-standing history of successful instruction and stage creations with children, has given recipients a profound sense of the benefits and excitement of becoming a musician.